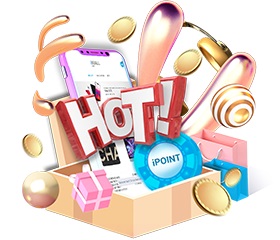 1POINT Latest Redemption Reward, Additional Rebate
Product Description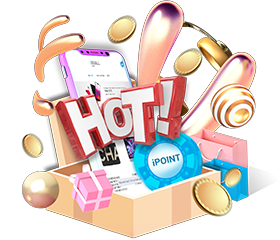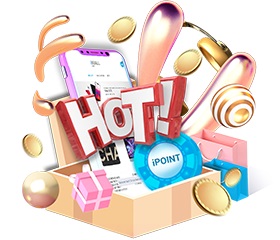 2019/7/5 – 2019/7/31

《Application Rules》
1. Use 7000 iPOINT to exchange for one day of +0.25% extra rebate.
2. This offer is valid only for live casino and slot game rooms (except 918Kiss). Can be applied once a day.
3. Application process: Contact online customer service to apply→ Redeem merchandise from iMALL → System calculates the valid bets → Wait for the system to distribute the extra rebate (will be distributed on the third day after application)
4. Increased rebate will only take effect on the next day of the application date. Example: Application submitted on the 17th, valid bets will be calculated starting on the 18th, from 00:00:00 to 23:59:59. On the 19th after 20:30, the extra rebate will be distributed once the total calculation is completed.
5. List of games which are unable to enjoy the rebate bonus
『Live Casino』All Live casino Blackjack
『Slot Games』918Kiss, Golden Tour, Ugga Bugga, Liu Fu Shou, Video poker, Table games, Fishing Games available in all video galleries.
6. Valid bets do not include: Slot Game (Multi-Rotating Slot Machines and Slot Machine bonus double bets), Craps Games, VIP baccarat, casino war games, Hold' Em Poker, Pai Gow games, Fishing Games, and Landlords Games.
《Terms & Conditions》
1. Promotions are for entertainment purposes only, if founded that the user has more than one account, including same name, same email address, same/similar ip address, same home address, same bank account, same computer and so on with abnormal betting behavior, once discovered, iBET will retain the right to freeze your account along with profit and balance.
2. Any betting done by through third-party illegal software such as 「robot」and 「Open Double / Multiple Windows」may be considered as illegal betting. iBET reserves the right to freeze the balance of the suspected account and close the member account.
3. Any opposite bets, tie, any both side betting (cross-site opposite bets) rejected bets, invalid bets, draw will not be calculate into a valid bet amount
4. Valid bets do not include: All Live Casino (Except Baccarat), Live Poker, Roulette, Pontoon, Slot Game (Multi-Rotating Slot Machines and Slot Machine bonus double bets), Craps Games, VIP baccarat, casino war games, Hold' Em Poker, Pai Gow games, Fishing Games, and Card Games.
5. iBET reserves the right to check all members' betting records and reserves the right to suspend, cancel or claim back all offers any time if a member breaches the rules and regulations of the event or has any non-entertainment use for profit-making.
6. If the account is suspected of being abused and / or not eligible for the promotion, iBET reserves the right to ask the member to submit relevant supporting documents to verify for identity verification.
7. Any individual / team / organization suspected of using dishonest means or fraud for the purpose to cheat/ abuse of bonus, once verified, iBET reserves the right to freeze the relevant account profits and balances.
8. By participating in this offer, you are agreeing to the (Terms & Conditions and Application Rules & Regulations)
9. iBET reserves the right to amend, terminate or the final interpretation of this promotion and to change this event without any prior notice
10. If found illegal betting situation, iBET shall freeze the deposit (including the amount of profit and bonus), the system will automatically clear the balance to zero (0)